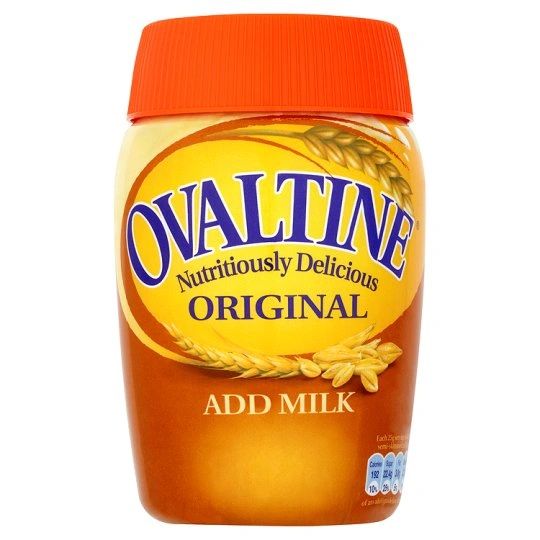 OVALTINE ORIGINAL 330G
Instant Low Fat Cocoa Flavoured Malted Drink with Sugars and Sweetener
Enjoy as part of a balanced diet and healthy lifestyle.
Nutritiously Delicious Ovaltine
... simply add hot water & enjoy a deliciously soothing malty drink as you unwind anytime of the day!

Made with the wholesome goodness of barley malt & cocoa, Ovaltine's unique recipe contains essential vitamins and minerals.
Barley Malt Extract (46%), Skimmed Milk Concentrate, Glucose Syrup, Vegetable Oil (Coconut and Rapeseed), Fat-Reduced Cocoa Powder (6%), Whole Milk Powder, Salt, Minerals (Calcium, Iron), Stabilisers (E340, E452), Milk Proteins, Vitamins (C, E, Niacin, A, Pantothenic Acid, B12, B6, B2, B1, Folic Acid, Biotin), Magnesium Carbonate, Sweetener (Acesulfame K), Emulsifier (E471), Anti-Caking Agent (E551)